Uncategorised
Grab some popcorn: Cabaret, cabaret, cabareeeeeeet!
Back in 2009 I was living in Stellenbosch, making the most of the final throes of my student life while completing an MA in English literature on the side.
Although my daily activities consisted greatly of drinking long draughts in the sun, eating pizza, guzzling coffee and quaffing wine on the shady stoepies of Mystic, Bohemia and Cafe Go with my favourite partners in crime, there were those odd occasions when I actually endeavoured to do things a little more… well… classy.
Like watching plays at the HB Thom (quite conveniently located just a hop across the road from the big M).
There was one play in particular that really stood out. It was, of course, a musical (what else?) and so wonderfully fantastic that the drama department decided to present it two years running.
It was…
Cabaret!
If you've never had the privilege of seeing it with your own peepers, let me give you a quick, quick summary.
Set in the decadent and gritty pre-WWII Berlin, the play deals with a wide array of cultural taboos (for the time of course)  – promiscuity, homosexuality, poverty and Nazi brainwashing just to mention a few.
The story is centered upon a saucy little minx of a British cabaret star called Sally Bowles and her brand new BFF, a struggling American writer called Clifford Bradshaw. After Sally's nightly performances at the Kit Kat Club, they spend their nights drinking, dancing, cavorting and flirting with anything that moves and their days sleeping and floating about the city in a delicious daze of wander.
A semi-clad, but super hot male Emcee serves as a story teller and commentator and a whimsical world of craziness unfolds.
However, as the dark new political movement starts to prevale among the  German population, the play's light-hearted, carefree mood starts changing and things get heavy and sad.
THE MOVIE
So, knowing how much I hearted the play, my dad took it upon himself to find the 1972 movie starring Liza Minelli,  converted it to DVD and gave it to me as a birthday gift. I watched it for the first time the other day and was absolutely blown away by the sheer dazzlingness of it… especially the lovely Liza with all her crazy outfits, endearing take on the femme fatale and sleek and shiny black boy's cut hair!
Anyway, it's a bit different from the play (read all about it here on wikipedia), but still a must-see in my books. In fact, it has made it onto my favourites list along with Amelie, Moulin Rouge, Pan's Labyrinth and Little Miss Sunshine.
Like the play it deals with all kinds of serious issues, but it never gets too heavy. You will find yourself giggling crazily at the wealth of quirky quips, drooling over lavish outfits and smiling at a very sweet sub-plot love story throughout.
It won no less than 8 academy awards including a best actress award for Liza herself!
Comes highly recommended to anyone who LOVED Chicago, Moulin Rouge or Burlesque, as well as anyone who would like an alternative view on the run-up to WWII.
If you want to watch it, I know it's available at the Red Sofa in Vredehoek, and you may also find it at DVD Nouveau in Bree Street or Filmhouse DVDs in Stellenbosch. Or you can just borrow it from me… OR even better… watch it with me.
People outside Cape Town… Don't know where you should go, but sure you have your secret awesome DVD shop 🙂
Here are a few of my favourite scenes: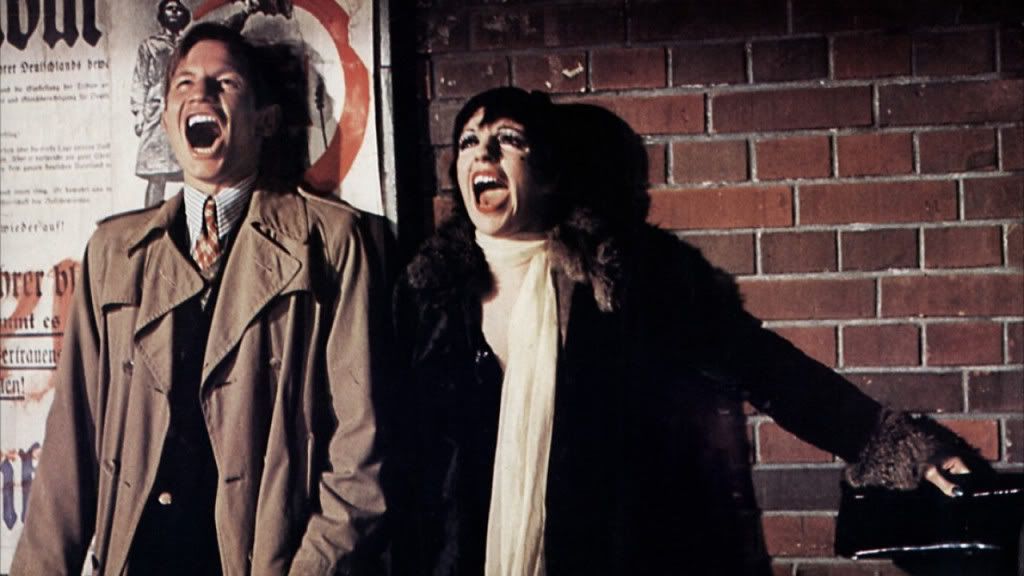 Brian Roberts (they changed Cliff's name in the movie) and Sally Bowles SCREAMING as a train rushes by overhead. Photo from: connect.in.com
Sally Bowles and the Emcee sing the marvellously fun 'Money makes the world go round'. Photo from: Cinema Fanatic
Sally and Brian taking a cycle around town. Photo from: Cinema Lane
Sally Bowles performing. Photo from: The Wow Jones report
Look at her cool hair! Photo from: http://movieactors.com/superstars/liza-minnelli.htm
"Doesn't my body just drive you wild with desire?" She asks the poor sexually confused writer. Photo from http://www.toutlecine.com
The Emcee is a tease… and so is Sally. Photo from: Cinema Lane
Aaah, so romantic! Love her head-gear. Photo from Film Forager
Nevermind Spidey and MJ… they were the first to do the upside down movie kiss! Photo from: Movies Kick Ass
AAAND AGAIN:
Photo: altfg.com
Watch the trailer. I know you waaaant to: